Below is an expanded list of amenities offered with our Executive Office Suites:
PRIVATE, FURNISHED OFFICE
Our turn key offices are professionally appointed for you and your clients. Each office is built with the full height walls and sound dampening ceilings providing optimal privacy. High speed internet (wired and wireless) and phone are in place. Prox card access 24/7.
RECEPTION AND LOBBY AREA
You and your clients will be welcomed in our well-appointed reception area, and your clients can be seated in our comfortable waiting area equipped with a flat screen TV.
CUSTOMIZED LEASED TERMS
We offer customized and flexible short term leases.
MAIL RECEIPT
Mail and packages sent to you at our prestigious business address are received and sorted in USPS approved individual mailboxes and parcel boxes that are securely located in the office complex vestibule.
LOBBY DIRECTORY
We will display your business name in our lobby directory.
BUSINESS COMMUNICATION SYSTEM
We provide a private phone line with unlimited local and long distance calls throughout USA/Canada. Our Vertical Wave communication system offers such applications as auto attendant, call recording, visual voice mail, exchange sync for contacts and vmail, instant messaging and IM conference viewpoint desktop call manager and remote administration.
BROADBAND INTERNET
There is high speed internet access (wired and wireless) throughout our building complex.
MEETING/CONFERENCE ROOM FACILITIES
To accommodate your meeting room needs, we offer dedicated meeting/conference room facilities designed and furnished for maximum efficiency with internet access, teleconferencing, and multimedia presentations. Free 8 hours per month use of conference room. Rooms available: hourly, daily, half day.
BUSINESS SUPPORT SERVICES
The following administrative services are made available by our proficient staff:- Accounting/bookkeeping services include support for popular electronic bookkeeping software.
– Secretarial services include word processing and desktop publishing.
– Electronic Business Applications such as electronic spreadsheet and database services are offered.
– Computer/IT Support is made available to our clients.
COMMON AREA/COMPLIMENTARY KITCHEN ACCESS
Kitchen with microwave, refrigerator, and coffee maker available
ACCESS TO COPIER/SCANNER/PRINTER/FAX
Shared color copier, scanner, printer and fax equipment available in our dedicated copy room for your convenience.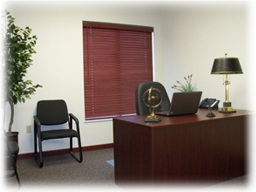 CALL TO RESERVE YOUR SUITE TODAY